Sales Therapy is system that is industry wide, but can be focused to your particular problems.
Sales Therapy
Does your sales team cost you money?
Do you or your team spend a lot of time on sales that never happen?
Do you or your team spend half of your time following up on leads and prospects that almost never close?
Have you or your team thought you had a deal, but the Real Decision Maker turned up unexpectedly?
Do you or your team run out of hours in the day before all tasks are done?
Do give a competitive quote and then the prospect disappears?
Have you tried other methods to increase sales but nothing is working?
If any of this touches a nerve, maybe you need some Sales Therapy. Perhaps we should have a conversation …
On Line Training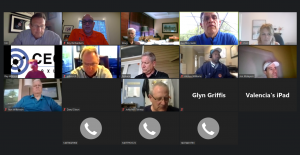 Using Zoom, we are now able to provide on line training to anyone with a computer or smart phone.
Our weekly class starts at 9am Eastern and runs approximately one hour.
Here are just some of the topics we cover.
How to stop selling, and let people buy
If it's not broken, you shouldn't be trying to fix it
Pricing, it is not the most important feature!
How can they NOT afford to use your service?
What you need to find out from prospects
How to prospect
How to follow up
How to make sure your quotes don't get "shopped"
How to recover a lost client
How to get referrals from … well anyone!
Networking, and how to avoid Not Working
Personality profiles (DISC)
Getting in rapport with people
Turning competition in to strategic partnerships
Goal Setting and Tracking
Making your "cookbook"
Sales journaling
Identity vs. roles
Since we were originally formed to help salespeople in the PEO industry specifically, we sometimes have classes just for them:
How to work with agents
How to work with PEO brokers
Who are the best strategic partners for PEOs?
and so on. Our team is adding classes as we go on.
Pricing varies, depending on services, but to attend our weekly class: $150/month, first and last months paid in advance.

If you would like to start a conversation about sales training …
407-490-2468